The Town Square is situated in the very heart of the town and is the square inhabited by the iconic Town Clock. Town Square Trading is aimed to maximize the square's potential encompassing a range of activities from individual stalls, craft stalls, hosting public information roadshows/campaigns, advertising opportunities, product launches to a performance arena highlighting local talent.
Downham Market Town Square
The iconic town clock was built in 1878 by William Cunliffe and presented to the town by local businessman, draper, grocer and clothier James Scott.
The Grade II listed structure has stood in the market square of Downham Market since its construction, and has only ever received one major refurbishment. In 2004 the clocks mechanism was refurbished and its chimes were reactivated.
The Victorian cast iron structure features an octagonal base with a dedication to James Scott carved into it at waist height, and a cuboidal clock chamber, which overlooks the market square below.
The clock now runs on an electric motor and is illuminated at night via the lights installed into the structure during the 2004 refurbishment.
The Town Hall is mid-Victorian and was erected as a memento of Queen Victoria's Golden Jubilee in 1887. It is a building of white and moulded brick, relieved by brown carrstone panels in the Renaissance style, and designed by a firm of London architects for the Town Hall Company.
In the 1970's the Town Hall was passed to the Borough Council of King's Lynn and West Norfolk for them to manage along with a number of other facilities within the boundaries of Downham Market. In 2008 the building was passed back into the care of the Town Council and so it remains today.
The Town Hall is a place for the people of the town and area to meet, to arrange and attend a wide variety of functions and events.
Slide to the right to see how it looked in the past!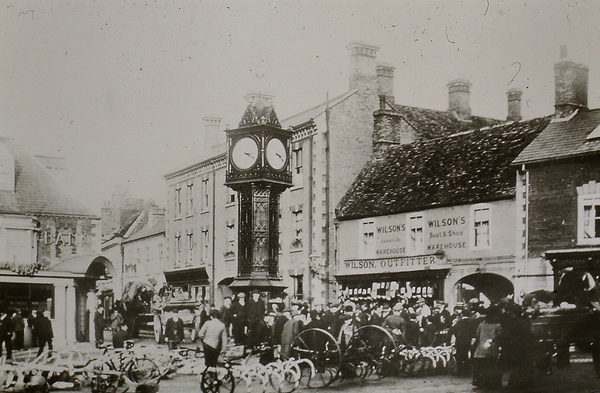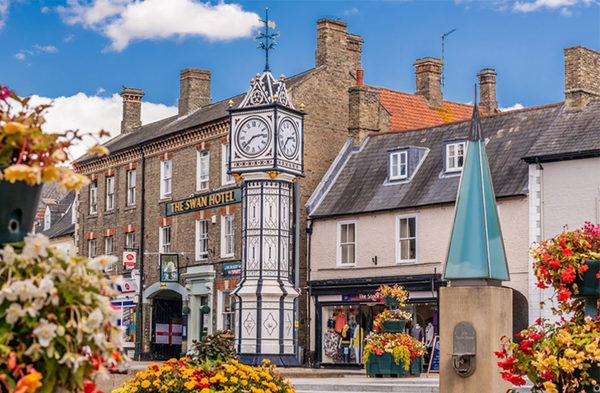 Site Information

Address:
Downham Market, PE38 9DB, Norfolk
Visitor Information
Refreshments (nearby)
Yes
Features